PRICE. QUALITY. SERVICE. INTEGRITY.
YOUR PARTNER FOR PAVEMENT MAINTENANCE
ANDERSON Striping & Construction, Inc., a WOMEN OWNED BUSINESS ENTERPRISE, is your solution for pavement management in the Western United States. Established in Reedley, CA in 1988 ANDERSON has grown to be the leader in the industry for asphalt and concrete repair and maintenance. Our team at ANDERSON specializes in statewide or regional programs to solve the needs of our clients, always striving to reduce the overall impact of pavement repairs while developing long term and trusted relationships year after year. Whether you have one property, or one thousand- ANDERSON is your partner for preserving pavement and expanding production!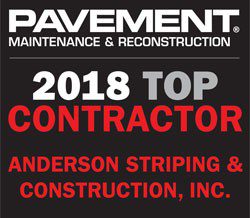 WAREHOUSE MARKINGS & EPOXY SYSTEMS